Blog
A Future of Robotics for Africa's Youth
Across Africa, there are young people who are excited and curious about how technology can be applied towards social and economic betterment. What would happen if we engaged them in the technology dialogues, hubs, and innovations that are springing up across the continent? This past week, Ashesi University gave a preview of the possibilities.
Ashesi's campus has been bustling with the energy of students, faculty, and staff who were part of the Ashesi Robotics Experience (ARX) – a  robotics program and competition for secondary school students in Ghana. ARX aims to get high school students excited about studying computer science, math, and engineering at the university level, so they can take part in the technology revolution taking place across the continent. Sixty students selected from high schools across Ghana, arrived at Ashesi's campus and participated in computing workshops, worked in teams to build and program robots, and competed in a set of challenges using their robots.  The challenge? Designing prototype robots capable of harvesting pineapples!
The program was designed by Dr. Ayorkor Korasah – a former faculty member of Carnegie Melon University and co-founder of the Africa Robotics Network – who believes that robotics will be key to preparing Africa's next generation for its future role in the technology movement. In this short film that documents the ARX week, Dr. Korsah says, "When our students learn how to apply this knowledge, they will be able to come up with creative solutions to the problems we have on the continent."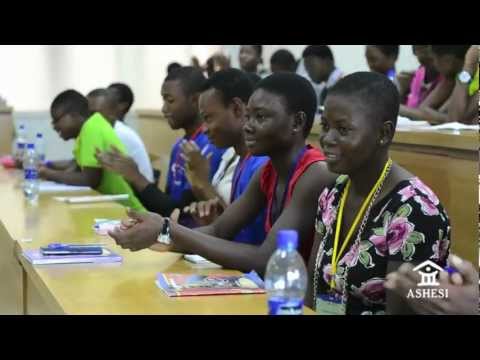 ARX will be run at Ashesi on an annual basis, and aims to expand its reach to students across Africa. As for the inaugural class of ARX – they leave Ashesi's campus charged up about robotics, and equipped with the knowledge and skills to pursue future studies or initiatives in this field.
Henrietta Gborgblorbu, a winner on the novice team from S.O.S Hermann Gmeiner High School summed up her experience well:  "This week was totally beyond my expectations.  The program really challenged us to solve problems and use our critical thinking skills.  I didn't expect to be so excited about robotics.  I want to start a robotics club at my high school."